Welcome to St Vincent de Paul Catholic Parish. Our Church is situated in Altenburg Gardens, off Lavender Hill in south Battersea, London SW11.
We are a Roman Catholic parish within the Archdiocese of Southwark, in the Wandsworth Deanery. Our Church opened in 1907. The Priest's House, which includes our parish office, is at 36 Altenburg Gardens, next to the Church.
If you wish to see if you live in the area served by our parish, take a look at the map here.
Sunday Mass is the heart of Catholic parish life: when we listen to the Word of God, join in Christ's sacrifice for us, and receive the sacrament of His Body and Blood, we are nourished and challenged.
We celebrate three Sunday Masses every weekend each with its particular character:
on Sunday mornings at 9 o'clock, and at 11 o'clock
and on Sunday evenings at 6 o'clock .
Ours is the only Sunday evening Mass in the Battersea area. Please Note: we do not have a Vigil Mass on Saturday evenings.
We are a diverse parish, and we rejoice in this. Some of us have been here for many years, but there is also quite a turnaround of people whose work (and sometimes visas) moves them on. Parishioners come from many backgrounds and countries. In particular, we have a significant number of French parishioners; occasionally a Mass in French (in association with the French Parish of Notre Dame de France, Leicester Square) is celebrated on a couple of Saturday evenings during the year at 6 o'clock .
There are lots of young children among our parishioners (the Battersea and Clapham areas are known for the number of young families), who often accompany their parents to the 11 o'clock Mass. On the third Sunday of each month in term-time the 11 o'clock Mass is usually a 'Family Mass' in which children play a particular part; on other Sundays in school terms there is a 'Children's Liturgy of the Word' at this Mass. We do not have a parish school, but some of our children are educated at Catholic Schools in the neighbouring parishes.
We have also have a lot of young adult parishioners, many of whom choose to join in the Sunday evening Mass.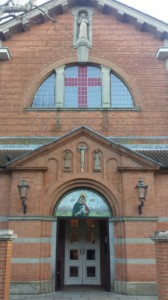 We hope to welcome you personally and to get to know you: when you can, do introduce yourselves to me or to my colleague Deacon Jon Dal Din, after Mass. You can download our current newsletter from the 'Latest News' page. Please also offer your talents to help build up the life of our community, and make suggestions. Lots more can happen here if you too are ready to share your faith and enthusiasm.
For however long you reside in our parish area you belong with us, for we share the precious gift of Catholic faith in Jesus Christ. You, and your family and friends, are most welcome.
Monsignor Timothy Galligan